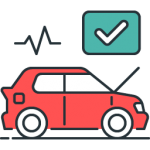 In order to keep your vehicle in the best shape possible, all drivers will eventually need engine repair. Albuquerque is full of auto repair shops, but there are few in New Mexico that takes the work as seriously as we do. Auto engine repairs can range from the simple inspection, to replacing components inside the engine, but every process needs to be approached with the same level of expertise. We take great pride in our mechanic's ability to isolate and repair the source of any engine problems, and not simply create a temporary solution.
Every driver needs to know that their engine will serve them well no matter where they are headed. Because it is literally the thing which keeps your car moving, it is important to make sure that your engine gets what it needs to get you where you need to be.
Of course, the first step in making sure that your engine stays healthy is to ensure that your engine has the lubrication it needs to run smoothly. What we are referring to is of course the famous Oil Change. There has been some serious debate as to when an oil change is appropriate. From a professional standpoint, there is only one authority that can make a statement as to when a vehicles oil should be changed; the vehicle manufacturer. The fact is, the designers are most aware of how to keep the engine in top condition, and they have made the guidelines clear.
Following the manufacturer's guidelines makes engine maintenance much more effective and essentially ensures the proper function of the engine at large. For this same reason, we suggest that your engine receive a tune up on a fairly regular basis. Many drivers consider a tune up something that should be done when they want to increase their fuel efficiency; however, tuning up your vehicle relieves a significant amount of stress and can extend the life of your engine.
Learning to recognize even the smallest engine problems can save you a great deal of money, especially if you take action and have the issue resolved. Below are two of the most common engine problems to watch out for.
Trouble accelerating – Difficulty getting your vehicle up to speed can be a serious issue, especially when getting on the freeway or merging into traffic. Catching a cough, splutter, or trouble accelerating means that you could have some timing issues. There is also the possibility that your fuel system needs maintenance. Either way, best to have it looked at sooner rather than later.
Strange noises – few things are more unnerving than an unnatural, persistent noise coming from your engine. Grinding, ticking or whining noises are signs that an issue inside your engine has worsened. Best way to deal with this is to try and figure out where the noise is coming from, and explain it to one of our staff.
By remaining mindful of your engines performance, and keeping a sharp eye out for any problems, you can expect to see your engine through many years of service. Feel free to give us a call and let us know what your vehicle needs. Our friendly staff will be glad to help you with whatever you need.