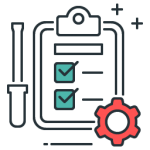 Many drivers don't see the benefit of scheduled auto maintenance packages, at Advantage Auto Repair we want to help with the health of your vehicle and preserve the value of your car for years into the future. Most people think that there is little they can do it keep their car in good condition short of surrendering their wallets to their mechanic. We want you to know that the real trick to a reliable vehicle is actually understanding what your vehicle requires, and servicing it according to the factory recommendations.
In terms of keeping your vehicle in good condition; nothing is more effective than scheduled maintenance procedures. There are whole lists of repair processes that are easily overlooked, and if left unchecked can severely affect the heath of your vehicle.  To give you an idea of what we are talking about, here are the checks that are generally made at the 30,000 mile marker. Most warranties will require that these components be serviced or inspected at this mileage to keep the warranty active.
Replace Fuel Filter
Differential Service
Suspension Check
Check Battery
Oil Change & Filter
Transmission Fluid Exchange
There are also separate maintenance checks that are required at the 60 and 90 thousand mile markers as well. Though many of them are the same, there are other processes like checking the fuel injection system that must be done to ensure your warranty is recognized by the dealer.  Be sure to consult the warranty terms for your specific vehicle for anything hidden that can easily be overlooked
Most drivers are aware that the dealer prices for these repair checks amount to a ridiculous price, what they don't want you to know is that it's not necessary to have them done at the dealer; they simply need to be done by a competent mechanic. Our ASE Certified technicians are more than capable of these standard repairs and will keep your warranty active for a fraction of the price. Don't pay over inflated dealer prices for standard procedures that are performed every day by our certified and skilled technicians.
The real benefits of scheduled maintenance are the longevity and performance that comes from the preservation of your vehicle. Furthermore, the investment in your vehicle will be protected because is in excellent condition.