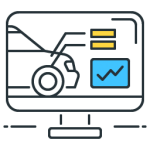 For many residents of Albuquerque, vehicle diagnostics and repairs can be a bit of a sore subject. Experiencing the let down of a shop that cannot accurately diagnose a vehicle problem can cause a severe lack of confidence in the professionalism of any auto repair facility, and often for good reason.
At Advantage Auto Repair, we take great pains to make sure that our technicians are equipped with the best technology available for vehicle diagnostics. However, this is only the starting point. Making certain that our technicians have the experience necessary to correctly diagnose vehicle issues is really where the rubber meets the road.
The truth is, the vast majority of drivers share a common misunderstanding when it comes to the automotive diagnostics process. Understanding more about the process is ultimately what will allow our customers to regain confidence and trust in the car diagnostics process and the technicians involved.
Far from simply following instructions from a computer, getting an accurate car problem diagnosis involves taking a good look at the data and making inferences regarding the root cause of the problem. The truth is, diagnostic computers are not equipped to say what the root source of any vehicle issue may lie. Computer diagnostics are only useful is providing the technician readouts of the various side effects of the initial problem. This is important to understand as it shifts the focus from the computer back to the skill and experience of the technician performing the diagnostics and repairs.
Our ASE Certified Technicians are specifically trained to loom past the surface layer of information in computer diagnostics, and to use a combination of human experience and advanced technology to address the root of the issue. In this way, we avoid patchwork solutions, and directly confront the source of the problem. Our diagnostics team excels in the art of long term solutions and making the problem a thing of the past.
In the end, there is no substitute for the experience of a trained technician in the world of auto repair. Making certain that our technicians have the tools and expertise necessary for accurate diagnosis is what ultimately determines the quality of the diagnosis and repair.
By holding our technicians to a higher standard of excellence, and using high quality NAPA parts in repairs, we are able to provide our customers with a 24 month, 24,000 mile warranty on qualifying repairs and services.  This ensures that your money is well spent, and you can drive away with the knowledge that your vehicle will serve you well on the road ahead.
We invite you to contact us if you have any questions or concerns when it comes to our diagnostic process. A high level of transparency and our willingness to devote time to our customers allows us to help our customers reduce the cost of future repairs and extend the life of your vehicle. Our staff is ready and willing to help you with whatever you require.